New hotel in Bergen stays on schedule
July 1st, 2020
Danish hotel operator and Norwegian property company continues to believe that the 199-room Moxy Hotels in Bergen will open in March next year.
Even though the topping-out ceremony was cancelled in March due to Covid-19, GC Rieber continues to stay on schedule with construction of the hotel that is located with fjord views in the Solheimsviken area of Bergen. The hotel operator, Core Hospitality, who currently have two available positions in Bergen, is very pleased with this:
"Despite being hit the worst during this crisis, Core Hospitality and our industry will come out stronger on the other side. And with GC Rieber's support in this project, we will enter a new market with a unique product that has strong competitive advantages. We especially trust that the business community of Solheimsviken will give us a warm welcome as we offer a good alternative to traditional hotels. Moxy and Bergen are a perfect match," says Per Denker Sørensen, CEO of Core Hospitality.
The Moxy brand is owned by Marriott International and is thus part of the world's largest loyalty program in the hotel industry, Marriott Bonvoy. Moxy is the first Marriott branded hotel to open in Bergen; only the second in all of Norway. The new destination offers the 140 million existing members of Marriott Bonvoy yet another place to stay, to earn and redeem points, while locals will be exposed to the program's global benefits.
Development on schedule
GC Rieber continues to trust the project's and Core Hospitality's long-term success. Both parties invest in making the project as sustainable as possible. Planning on becoming certified by both BREEAM-NOR for green building processes and Green Key for green operations, Moxy Bergen will be among the most sustainable hotels in the city.
"The hotel will be in a class of its own. Only a pier separates the hotel and the fjord. The Moxy brand brings an international product to a city that is oversaturated by local brands. It has an ideal location in the heart of Solheimviken's business district, and a short distance from the city center and near many of our business properties in Bergen," says Ingunn Gjermundnes, Project Manager at GC Rieber.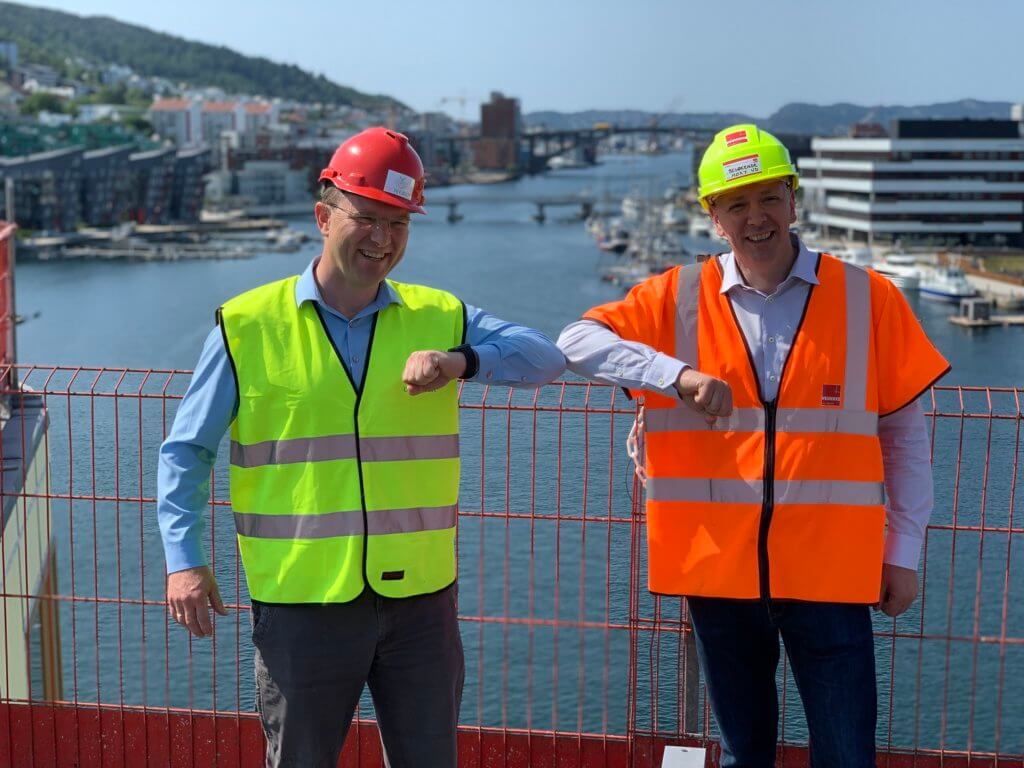 Moxy is operated by Core in Scandinavia
Moxy Hotels is internationally connected to Marriott International, but in Scandinavia it is the Danish hotel operator, Core Hospitality, that manages the hotels. The company opened Moxy in Copenhagen last year and plan on opening Moxy in Bergen and in Tromsø in the coming years. More projects have been confirmed but have yet to be announced.
"That GC Rieber continues to trust that Core Hospitality can operate a profitable hotel is important to us. GC Rieber is a major investor, but this is their first hotel project. Moxy Bergen fits into our growth strategy in which we expect to open a new hotel every year. This is not just to grow in size; with every opening, we also increase the operational efficiency of each hotel," says Per Denker Sørensen, CEO of Core Hospitality.
---
About Core Hospitality
Core Hospitality is a Danish hotel operator that is independent of brands and flexible to operate under any type of contract. The company can implement and operate whichever brand best suits the property and location of a hotel. Core Hospitality was established by Zleep Hotels and has since established a strong, independent portfolio of hotels; Best Western Plus in Kastrup and Moxy in Copenhagen. Its confirmed pipeline of projects includes Moxy Bergen and Moxy Tromsø. Read more at corehospitality.dk.